Post by d7666 on Jun 1, 2020 7:59:24 GMT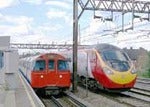 So, are we likely to see Class 717 trains wearing London Overground livery? Or will it be run as a different outfit, in the same way that TfL Rail is not part of the Overground?
What might delight passengers would be the seats changing, erm, providing that means to a more comfortable design - a conversion to transverse seats will not be so welcome.
There might be some scope for separating this off to a dedicated thread, if it's looking like becoming a new thing going forward.
I cannot are any value in converting the Moorgate service to Overground. It's already had major investment in the form of new trains, which are of an almost identical model to the class 700s operating on the outer suburban services. Likewise they are maintained alongside other GN units at Hornsey (I can't recall if they are maintained in the new Siemens facility, or in the more established GTR part of the depot - from memory I think it's the latter). There's interworking of crews, and separating this off for a 4tph service on each arm would be rather inefficient, especially with stabling being spread over four separate locations.
With new trains already running at the maximum length the infrastructure will allow, and the infrastructure running at full stretch (the timetable is already pretty good considering how busy the route is), we're left with station enhancements. Many of the stations are already staffed and gated, some from first train to last train, and none are in a poor state of repair.
Unless one has a preference for orange paint and Johnston typeface, I can see no tangible passenger benefits arising from this route going over.
Yes 717s are maintained in the old Hornsey depot not in the new Siemens 700 facility and are on seperate maintenance contract arrangements. Some early 717s were delivered and tested at the Siemens facility before being handover to the other depot but those were the exceptions not the rule. I was on an official technical visit to both Hornsey depots 2 years ago before 717s arrived, we were told that it /might/ be the case that when 717s come up for overhaul this /might/ be done in the Siemens facility but this work is years away yet and no decisions have been made.
Ditto I see no tangible passenger benefit from such a transfer.