Post by Admin Team on Sept 19, 2008 12:15:10 GMT
First of all, thanks for visiting - we hope you'll continue to do so and that you'll find this forum useful and enjoyable! This forum has become a premier place for the discussion of not only London Underground, but also the other railways operated by Transport
for
London and we look forward to thought provoking and considered discussions on these topics.
This forum was created in 2005 to replace the original 'Bravenet' Forum, which remains viewable through the link on the 'main' web site, but which is no longer available for either new posts or additions to existing threads.
There is a disclaimer notice at the bottom of the forum homepage, but if any member feels there is a particular problem with any posts or PM's, please make an Administrator or Moderator aware (via PM) so that action can be taken as soon as possible. A list of the forum's staff can be found by
clicking here
.
The forum is divided up into seven main categories, with each category containing specific boards appropriate to it. As a guest, you will mainly see all of our railway related content - to view some of our more general areas, where we talk about anything under the sun or have a moan in the rant area......well you'll need to sign up and become a member!!
Forum & Site Matters
The first category is 'Forum & Site Matters', and it looks like this:

The first board is titled 'Forum & Site Announcements' and is used by the forum staff to let you know of anything useful relating to District Dave's main website or this forum.
The second board, titled 'Forum Rules, Information & How To Do Tutorials' is where you are now. The idea here is to guide you on our rules and show you how to do useful things like post pictures or include links in your posts, etc. Threads in the first two boards can only be started by forum staff members.
London Underground Lines
The second category is titled 'London Underground Lines', and as implied by the title, this where you'll find boards for each LU line.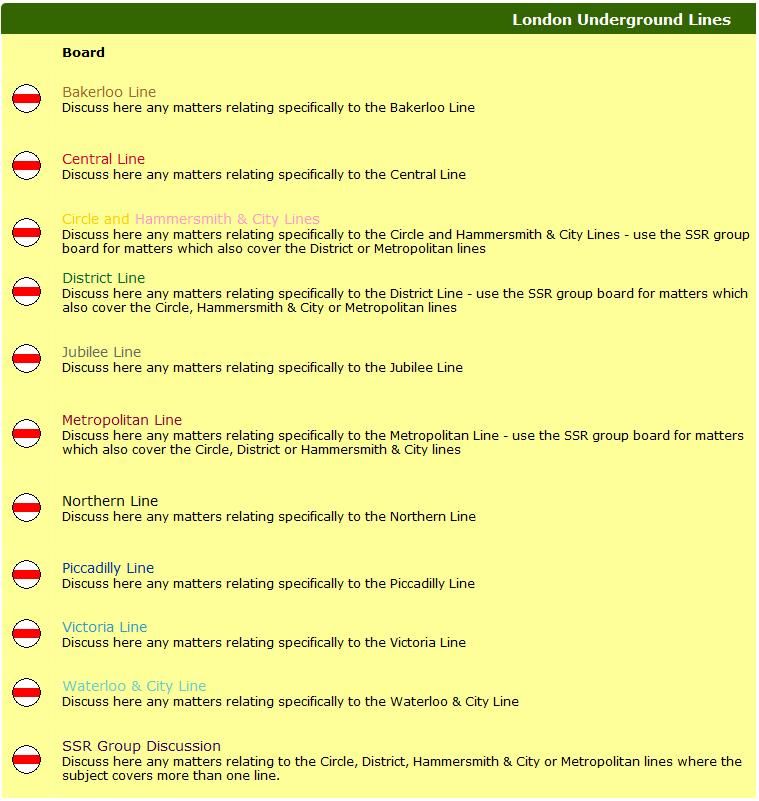 Other TfL Railways

As you can see, the 'Other T
f
L Railways' category has three boards dedicated to London Overground, Docklands Light Railway and Crossrail.
The Technical Area

Want to know more about how trains work? 'Rolling Stock' is the board for you! If you're thinking ahead to the next generation of trains, this is also the board for you.
Ever wondered how the signals work, or what keeps the track firmly in place? Well the Signalling & track board could be right up your street!
The 'Signal & Railway Simulations and Modelling' board caters for those into mimicking the real thing - please note there are strict rules surrounding the discussion of railway simulations (in particular BVE)!!
Other London Underground & TfL Railways Matters
Our fifth category is 'Other London Underground & T
f
L Railways Matters':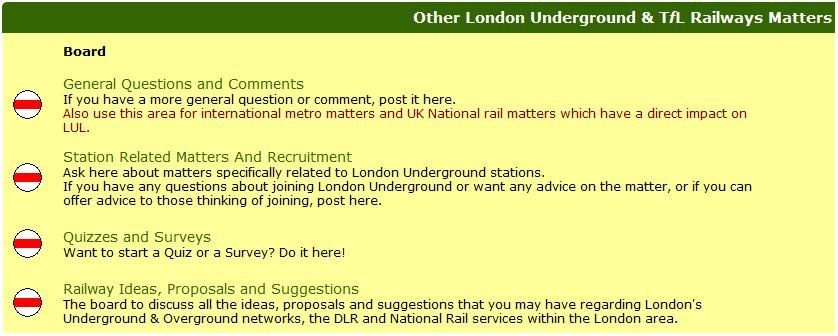 The first board in this category is for general questions about T
f
L that don't seem to fit in specifically anywhere else. You should also use this area if you have a more general question about UK national rail or international railways.
The second board in this category is 'Station Matters & Recruitment' - so if you want to discuss something about stations generally, or you have a burning desire to talk about railway recruitment, this is your board.
The third board in this category is 'Quizes and Surveys '. This board is home to the now resident daily quiz, which is run by ChrisM with assistance from SE13 and is centered around a 'guess the location' theme. With regard to surveys [and polls], please be aware than an administrator must approve anything you wish to set up - the reason for this is that in the past some members set up polls on the most inane subjects and it all got rather silly.
The final board in this category is titled 'Railway Ideas, Proposals and Suggestions'. This board is for the discussion of ideas, realistic or not, about how you would make changes to improve the services offered on London's Underground & Overground networks, the DLR and National Rail services within the London area. Be aware though - our members will be thorough in their examination of your suggestions!!
Photography & Historical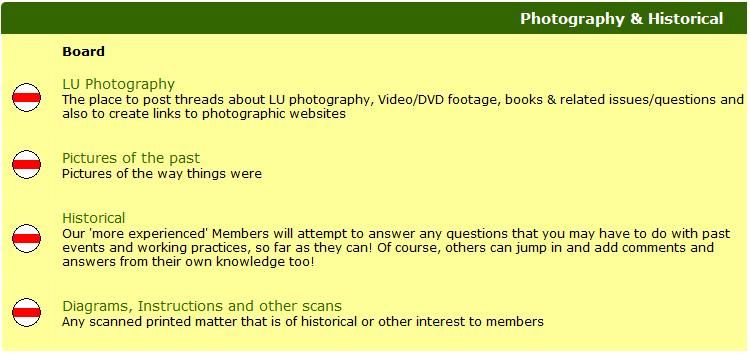 The first board in this category covers all things photography related, plus DVD's and books.
The second board caters for all those historical images that maybe haven't seen the light of day for some years, or simply show how things were "back in the day".
Next up is 'Historical', and as suggested by the title, its aimed squarely at those that wish to discuss the distant past.
The final board in this category caters for the posting of historical images and scans of old documents or instructions.
The Members Messroom
You'll need to be a logged in member to see this area!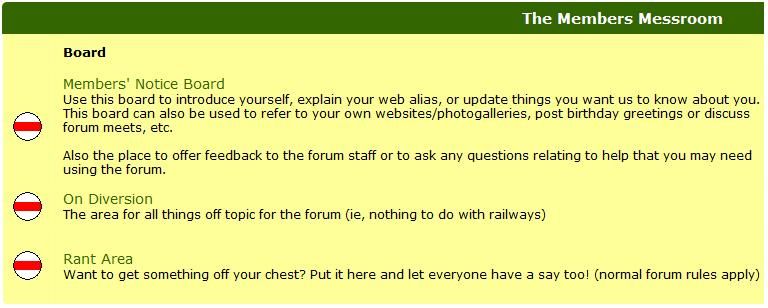 The first board in this category is titled 'Members Notice Board'. This board is for new members to introduce themselves, other members to post updates about themselves, say "happy birthday", etc. This board is also for use by members that wish to offer feedback to the forum staff or ask a help question related to using the forum.
The second board in this area is titled "On Diversion" and can used to talk about literally anything.....as longs as its not railway related! Forum rules do apply in this area with the addition that jokes are not allowed (previous experience has shown that jokes are hard to "police" for the forum staff).
The final board is the ever popular 'Rant' area; this is used to sound off about anything that has given you the hump.......please bear in mind though that the forum rules do apply - so keep it clean!!